Seen in numerous festivals in seven countries, and used as a teaching
aid in Drama and English programs in the U.S., Canada, and the UK,
THE RAVEN is greatly inspired by German expressionist cinema
of the 1920's.
If you like to find about more about the film, then please
click HERE to visit our promo page for THE RAVEN
.
You can also purchase the film on DVD by clicking
HERE
.
And you can visit The Raven Store by clicking
HERE
.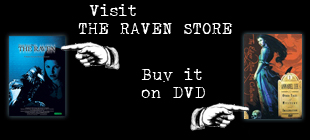 ©2003, 2013 Trilobite Pictures.
All rights reserved.